Prestige car hire delivery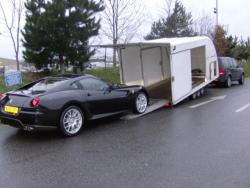 We can provide a professional handover to your salesman standards, with all the neccessary accompanying paperwork actions to fulfill your handover procedures. We take along the delivery pack and run through everything with the customer as if you were delivering yourselves. We show the controls of the car... discuss any concerns... give contact information... obtain any signatures required... With all this help, why do you need to deliver yourselves?!
For all cars, private and within the trade
We represent the vehicle dealership in a professional manner at customer premises
Trade deliveries, both volume and premium
We deliver performance and prestige cars using the outstanding Brian James TT35 Flat Tiltbed Alum trailer, designed specifically for the task. We can carry anything from Nissan Micra to the latest Range Rover.
Please email us to enquire for a trade delivery quotation, or phone/fax us now on 01773 863777.
Excellent deals & peace of mind
Hire with confidence and security from JTI Prestige
Hiring a prestige performance car need not be a worrying experience. Our package covers you in all eventualities and is easy to understand. See our terms. All major credit cards accepted.